Instant film photography is fun. It can produce striking and unique images with instant gratification, but the film for Polaroid and Instax cameras can be prohibitively expensive. Why is instant film so expensive, and how can we find it cheaper?
Instant film has never been affordable even at the height of its popularity, but with the demise of the original Polaroid company and subsequent failures of companies that took it over, the costs of Polaroid film suffers from high demand and low supply. The recently formed Polaroid company has begun making Polaroid film again which has helped with the overall price but Instax film by Fujifilm is an affordable alternative and is more readily available.
Understanding why Polaroid film is so expensive requires a quick trip back in history. We will also dive into your options for instant film photography, sources for more affordable film, and the differences between Instax cameras and Polaroid cameras.
Polaroid's Rise and Fall: A Brief History of Instant Film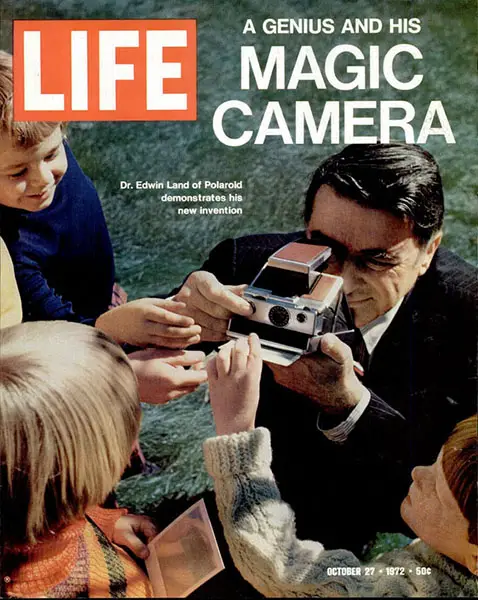 Edward Land, the American Inventor who was a huge inspiration for Steve Jobs

, was taking pictures with his daughter when she asked him why they couldn't see the pictures right away. Land thought that was a good question, and he began working on a camera that would hold film that could be developed instantly. In 1948, Land unveiled the Polaroid Land Model 95 Camera

, the first commercially viable instant camera. Polaroid cameras continued to grow in popularity

and by the 1970s, they were everywhere.
Why Do Consumers Pay the Steep Price for instant Film?
Before Polaroid

(or instant film in general), photographers purchased traditional film (like 35mm, medium, or large format) and took the images, waited days for development by either themselves or paid a lab, and then paid to get their prints. The big price tag on Polaroid film didn't hinder its popularity because people love being able to snap a photo and share it with their friends right on the spot. Also, police and arson investigators used them at crime scenes for instant visual records and they were great for ID cards, ultrasounds, and anything else that required a rapid turnaround photograph.
However, one of the things going against Instant film, and more specifically Polaroid, is it has always been expensive. For example, a pack of 10 sheets of film in the 1980's cost $7.99. The cost of a pack of Polaroid film now is around $20 today

, which is about the same price as it was back then when adjusted for inflation, except now you only get 8 photos.
Polaroid Had a Virtual Monopoly for Many Years
Being the innovator of instant film photography, Edwin Land and his company, Polaroid, enjoyed considerable success for since the late 1940s when Edwin Land's company produced the first commercially available instant film camera, The Land Camera 95, and it sells out in minutes. Polaroid also won a lawsuit against Kodak

, who was forced to discontinue their manufacture of instant cameras. Sales of both cameras and film was high and Polaroid instant photos

were rising in popularity.
However, the success didn't last. The Polaroid began to decline after the company forced the founder, Edwin Land, to resign in 1977 from the company following the failure of their instant home movie film product called Polavision

which lost out to Betamax and VHS videotapes due to its limitations.
With the failure of Polavision combined with instant photography losing market share to disposable cameras starting in the 1980s, Polaroid decided to move away from consumer photography at the time, they tried selling other products

such as floppy disks, videotapes, film scanners, instant slide film, including one of the first digital cameras, PDC-2000 in 1996

, but it did not sell as well as expected.
Polaroid eventually filed bankruptcy

for the first time in 2001 and again in 2008.
The Impossible Project
In February 2008 following their second bankruptcy, Polaroid announced it would stop producing instant film for it's cameras. As patent restrictions were eased, more competing companies began producing instant cameras and companies, like Fujifilm who had been producing instant cameras for years, were able to break further into the market.
Polaroid film was hard to find and prices skyrocketed for Polaroid film during this time, but some enterprising fans of instant film and Polaroid met at the Polaroid factory and purchased the machinery

to make the film in 2008. Even though the group was able to hire many of the people who ran the factory and machines, they did not have access to patents and had to reverse engineer instant film that worked with specific Polaroid instant cameras

as well as cameras produced by the company with many iterations that never quite lived up the original.
The founding group created the Polaroid B. V. company and named it The Impossible Project and helped with the resurgence of instant film (prompting Fujifilm to make more cameras and film). In 2017, The Impossible Project's largest shareholder acquired the intellectual property

and branding rights of the Polaroid Corporation and The Impossible Project was renamed to Polaroid Originals. In 2020, the company rebranded themselves

as simply Polaroid (without the Originals), producing many cameras and film (like the Polaroid I-Type Now

) under the new name along with The Impossible Project branded instant cameras and film

.
The Growth of Fujifilm Instax
Fujifilm has been producing instant cameras since the 1990s. Originally Fujifilm's instant cameras were only available in Asian markets but where Polaroid failed to adapt to the changing markets, Fujifilm embraced the advances in digital photography and managed to position the Instax Mini as an affordable

 and cute way to produce instant physical photographs. Something only Polaroid has caught up to with the recent release of the small Polaroid Go camera and film

(of which the film is around the same size as the Fujifilm Instax Mini film).
This innovative marketing and design-led to growing popularity for the Fujifilm Instax and Instax Mini.

 Today, the Instax line of instant cameras and film have found a place in the global market. More affordable than Polaroid film, designed for quickly taking a physical image, aesthetic, and to be fun are the traits that gave the Fujifilm Instax cameras their strong footing with professional and enthusiasts around the world.
The Chemicals In Instant Photography Make It Expensive
Film, in general, works by exposing a light-sensitive material. For black-and-white film, a single layer of material is altered based on the light that hits it. In color film, multiple layers of material change based on light coming from the cyan, magenta, or yellow spectrums. The film has to be developed in order to see the finished image, but the material itself stores the image as soon as it is exposed to the light.
Polaroid Film Does All of the Steps at Once 
Instant film uses additional layers of material called developer layers

. These layers contain dye couplers. Underneath all the other layers sits a black base layer. The arrangement of these layers allows the chemical reaction that results in a photo.
After the various layers are altered by light – when you click the button and open the shutter to let light hit the film – there's one more step. A chemical reagent is rolled across the image inside the camera. That reagent kicks off the development process. This reagent is stored in the bottom section of each photo – this is why it larger than the rest of the borders. Once the image is ejected from the camera and after a brief amount of time, you will have an instant photo.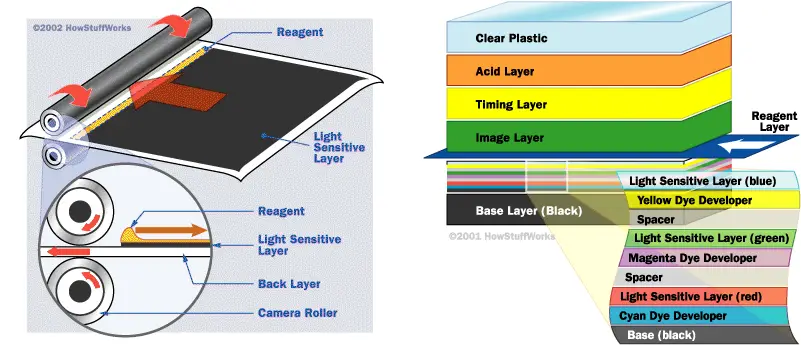 Instant film has three main components: the film, the casing, and the reagent. The film is just normal camera film, and the casing is also essentially just a plastic sheet. The reagent is where the magic happens. The reagent contains chemicals, like alkali, to neutralize the acids in the film, as well as an opacifier and other important bits. Chemical used in instant film can be toxic

so it's important to handle them with care.
All of these layers being combined into a single, thin sheet of photo material make for a miniature photographic miracle in every shot. All those chemicals, reagents, and special papers make each individual instant photo more expensive than a printed image. But they also make each instant photo a totally unique creation.
Tom Harris has this great article on how instant film works

which explains how an instant image is created using the special film.
Cost Comparisons Between Polaroid and Instax Cameras
A combination of factors has led to recent rising popularity in instant film photography

. The classic look of instant film photos is hard to reproduce with a digital camera and there is nothing like watching a physical photography develop in front of you while you are watching it.
Where a typical phone user might take dozens of photos with a cell phone over the course of a single night, none of those will produce a physical product, and if they do, it will not have the same tactile appeal of an instant photo.
The rising popularity of instant cameras combined with the easing of patent restrictions to produce a nearly bewildering array of cameras available. To shorten your search, we have compiled a quick comparison chart so you can see what's available, the differences, and costs at a glance.
Camera

Camera Cost*

Film*

Features

Fujifilm Instax Square SQ20

$176.99 – $199 (depending on color and accessories)

Instax Square

– $19.10 for 20 exposures

A hybrid camera that takes digital photos and allows manipulation before printing. The Instax Square SQ20 has lots of fun features, like photo collages, selfie mirror, and frame grab. This is a high-end, feature-rich instant camera.

Fujifilm Instax Square SQ6

$109.99 – 149.99 (depending on color and accessories)

Instax Square

– $19.10 for 20 exposures

The Instax Square SQ6 uses the same film as the Square SQ20 but has far fewer features. It has several shooting settings for different output options.

Fujifilm Instax Mini

$54.95 – $113.99 (depending on color and accessories)

Instax Mini

– $13.38 for 20 exposures (better price the more you purchase)

There are many different Instax Mini cameras available in a variety of colors and feature sets. All will produce a smaller instant photo, with each variation providing different settings and features. This instant camera uses the

cheapest Instax film

available.

Polaroid Now i-Type

$99.99 – $134.99 (depending on color and accessories)

The Now i-Type is a point-and-shoot camera with autofocus, double-exposure capability and a self timer.

Polaroid OneStep+ i-Type

$139.99 (depending on color and availability)

The OneStep+ i-Type uses Bluetooth connectivity and a cell phone app to allow you to adjust your photos before you print them. It also has dual lenses to switch between portrait photos and landscape photos.

Polaroid OneStep2 i-Type

$87.99 – $250 (depending on color and availability)

The OneStep2 i-Type is a simple camera – hit the button, take the picture, and minutes later, you're holding your instant photo.

Polaroid 600 series instant cameras

$25.99 – $200 (depending on condition)

600 film

– typically about $3 per exposure

The 600 series of instant cameras are a throwback line to the instant cameras that made Polaroid a household name. They are all fully refurbished and restored original Polaroid cameras from the 80s, 90s and 00s. 

Polaroid SX-70 series instant cameras

$299.99 – $500 (or more)

SX-70 film

– typically about $3 per exposure

The SX-70 line of instant cameras are high-end restored models of the vintage camera released in 1972. They fold flat, have advanced shooting features like autofocus but also includes manual focus.

Polaroid Snap

$79.99 – $99.99 (depending on color and accessories)

ZINK Photo Paper

– $14.99 for 30 exposures

The Polaroid Snap is a cheaper camera that combine digital camera technology with instant film development. It features memory card capability and prints small, borderless photos. It come in two version

Snap vs Snap Touch 2.0

. (

see this article for more about Zink paper

)
*Prices at the time of writing