Taking pictures has become part of life; on our smartphones, tablets, digital cameras, whatever you choose to use, we love capturing every moment. The only downside is images taken in this manner are stuck on those devices, but with Zink paper, you can bring your photos to life.
Zink is a special photo paper that is colored using crystals and heat; no ink, ribbons, or toner is needed. There is only one manufacturer of Zink paper, but there are several brands that sell the paper under their name along with instant print cameras and printers that are compatible with it.  
Although social media is a fun way to share pictures, there is something special about holding a physical photograph in your hand. With their compact size, Zink printers and their accompanying paper can let you print off photos anytime, anywhere. You can trade pictures with your friends or create a scrapbook of memories.
What is Zink Paper?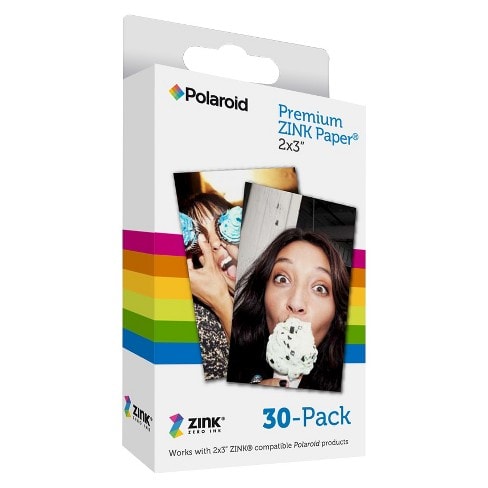 Zink paper was invented and is created by ZINK Holdings LLC. It is the only company to produce Zink paper, but they license out the technology, allowing other brands like Polaroid, Kodak, Canon, HP, etc to sell it under their name.
Zink paper looks and feels like a glossy photography paper; it is hard to tell the difference. However, what makes Zink paper so unique is that despite looking plain and white, it is covered with microscopic crystals. When put into the right printing device, your images come out appearing in full color, just like magic.
How Does Zink Technology Work?
There are different components of Zink paper that allows it to produce beautiful, full-color images. All you need to do is look through the viewfinder and press the button, and the camera or printer will do the rest:
Ink-Free
Printing technology has not changed much in the past 30 years. Color printers have become more accessible, and the quality has improved, but overall, the concept has stayed the same.
The creation of Zink paper is revolutionary. Unlike anything on the market, it is free of ink; a Zink paper device does not use ink cartridges, ribbons, or toners. All you need is a Zink instant camera or portable printer and the paper.
Color Crystals
When you print a photo on Zink paper, it is practically magic; it even uses crystals. 
Each piece of Zink paper is made of seven layers. These layers are:
Polymer Coating Overcoat
Yellow Crystal Layer
Inner Layer
Magenta Crystal Layer
Inner Layer
Cyan Crystal Layer
Base Layer
The layers are so thin when combined that they are about as thick as one strand of your hair. Each piece of paper is packed with 100 billion dye crystals waiting to reveal an image.
Heat-Activated
A Zink paper printing device uses electronically controlled thermal pulses to activate the crystals. There are hundreds of tiny heating elements that create these pulses.
With each pulse, certain dye crystals melt. Each color requires a different heat intensity and duration to melt it. The temperature-time formula for each color is:
Yellow Crystals = Hi Temperature (200 degrees Celsius or 392 degrees Fahrenheit) and a Short Duration
Magenta Crystals = Medium Temperature (150 degrees Celsius or 302 degrees Fahrenheit) and a Medium Duration
Cyan Crystals = Low Temperature (100 degrees Celsius or 212 degrees Fahrenheit) and a Long Duration
It takes about 30 seconds for the Zink paper to print. In this time, 200 million heat pulses take place. Each pulse only melts the intended color crystal as it aligns with the color captured; this means for a low-temperature long duration pulse, only yellow crystals will melt, and the cyan and magenta crystals stay solid.
Thankfully, as these crystals melt, they mix with the layers above and below, combining to make other colors. Even with only three starting colors, thousands of colors can appear by combining the right amount of each base color. 
For example, when cyan and yellow crystals melt together, they create green. Magenta and cyan combine to make blue, and a combination of yellow and magenta makes red. If more cyan crystals melt than yellow crystals, the color appearing will look more blue-green.
Once the photo has been ejected out of the printer, the crystals harden but keep their color. 
Benefits of Zink Paper
Zink paper's unique printing process and the construction of the paper itself make it different from other photo papers. Some of the benefits of Zink paper include:
Long-Lasting: Over time, photos do fade, and while Zink paper is not excluded from this, you can expect to get years of visual enjoyment from your photos before they begin to discolor and fade. Photos printed on Zink paper can potentially last as long as photos printed using ink or tonner. You can increase the longevity of your pictures with proper storage. Light is the biggest culprit of damaged photos; keeping your Zink photos in an album and out of direct sunlight will help ensure they last a long time.
Environmentally-Friendly: Since there is no waste produced from empty cartridges, printing on Zink paper is environmentally friendly.
Adhesive Back: Being able to display your photos on a wall, bulletin board, or door is half the fun of photography. Traditional photographs require you to use tape or thumbtacks, which causes lasting damage. Zink paper comes with an adhesive back, which allows you to post photos on various surfaces and take them down without ripping them. You can also choose to keep the lining on the back to keep them stick-free. This lets you store your pictures in an album or box.
Water-Resistant: Since Zink printers are portable, you can find yourself printing off pictures just about anywhere. Should your photos be introduced to rain or spilled liquids, they can come away intact. Although you shouldn't take a bath with your photo album, you can worry less if your photos get wet.
Smudge–Resistant: The layers of colored crystals are safely inside a polymer coating. Once printed, the colors are set and will not get moved around.
Tear–Resistant: A touch base layer combined with the polymer coating makes your photos sturdy; the enthusiastic passing of photos will not create torn photos. You should still keep the paper away from scissors, though.
Zink Printers & Cameras
Of course, to make the most out of your Zink paper, you'll need to choose a camera and/or printer that is compatible with it. 
For example, the Fujifilm Instax is a popular and inexpensive instant print camera; however, it does not use Zink paper. A few options of instant cameras and portable printers that also do not use Zink paper include:
The following sections will provide recommendations for various printers and instant cameras known to work with Zink paper:
Zink Printers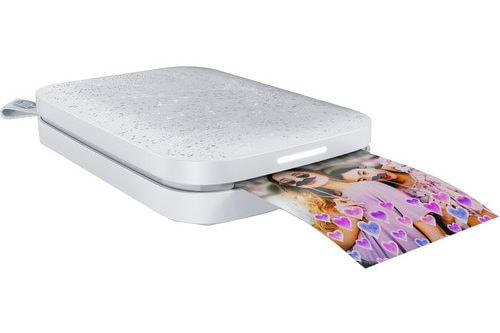 Zink printers are quite similar; they all use 2 x 3" Zink paper, most use Bluetooth to connect to your devices and operate with the same technology. Choosing which printer to purchase comes down to color and style preferences. The prices might change but you will have a general idea of the cost of each printer:
| Brand | Printer Name | Dimensions | Weight | App | Price |
| --- | --- | --- | --- | --- | --- |
| Polaroid | | 0.87 x 2.91 x 4.72" | 6.6 oz | | $97.83 |
| Canon | | 0.7 x 3.2 x 4.7 | 5.6 oz | | $99.00 |
| HP | | 0.98 x 3.15 x 4.63" | 6.08 oz | | $89.99 |
| Kodak | | 0.9 x 3.2 x 4.6" | 16 oz | | $99.99 |
| Lifeprint | | 0.8 x 3.2 x 4.7" | 6.4 oz | | $99.95 |
| Liferprint | | 1.9 x 5.3 x 7.5" | 14.1 oz | | $149.99 |
| Prynt | | 2.4 x 4.5 6.3" | 17.6 oz | | $49.99 |
Zink Printers
Zink Instant-Print Cameras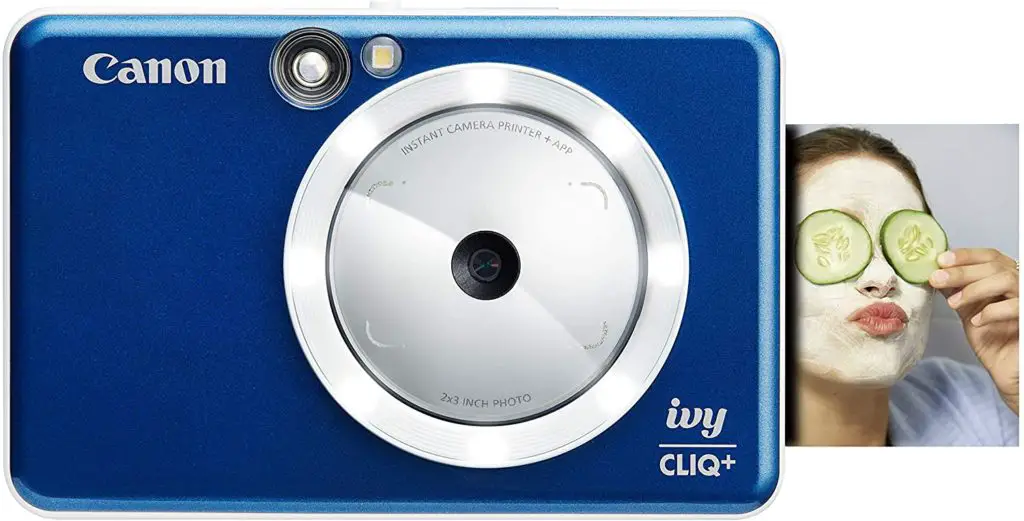 While the mobile printers let you print from your phone or tablet, you can also purchase an instant print camera. They are like the instant cameras of the past, but rather than resulting in a film packet, these new-tech cameras shoot out fully printed photos on paper. 
Here are the specs for the different top-rated instant print cameras. The prices might change but you will have a general idea of the cost of each camera:
| Brand | Camera Name | Dimensions | Weight | Paper Size | Border | Price |
| --- | --- | --- | --- | --- | --- | --- |
| Polaroid | | 0.98 x 2.6 x 4.72" | 13.4 oz | 2 x 3" | Optional | $68.99 |
| Polaroid | | 1 x 3 x 4" | 16 oz | 2 x 3" | Optional | $157.06 |
| Polaroid | | 0.5 x 1 x 3" | 7.2 oz | 2 x 3" | Optional | $97.50 |
| Polaroid | | 1 x 4 x 6" | 16 oz | 3.5 x 4.25 | Yes | $109.99 |
| Canon | | 0.8 x 3.2 x 4.8" | 6.4 oz | 2 x 3" | Optional | $89.99 |
| HP | | 5.6 x 8.2 x 10.3" | 19.2 oz | 2 x 3" | Optional | $69.99 |
| Kodak | | 1 x 3.11 x 4.8" | 7.1 oz | 2 x 3" | No | $49.99 |
| Kodak | | 0.9 x 3.1 x 4.8" | 16 oz | 2 x 3" | Optional | $99.99 |
| Lifeprint | | 1.6 x 3.3 x 4.7" | 8 0z | 2 x 3" | Optional | $149.95 |
| Prynt | | 1.9 x 2.8 x 3.27" | 5.8 oz | 2 x 3" | Optional | $101.99 |
NOTE: See this article for more information about the difference between the Polaroid Snap and the Polaroid Snap Touch 2.0.
Choosing the Best Zink Printer & Camera
Many factors go into determining the best of anything. For Zink products, factors include:
Photo Quality
Ease of Use
Price
Color Modes
Editing Features
Print Speed
Since all these devices use the same photo paper, it can be hard to compare them. Based on tests and reviews, however, the devices that seem to come out on top are:
Reviews are subjective, and what one person loves, another could hate. Take some time to look at multiple reviews and product details before making your decision.
Purchasing Zink Paper
You can't forget the Zink paper! The easiest way to purchase Zink paper is on Amazon.com. The paper is usually sold in packets of 10 sheets; looking at the label will help you know if you are buying 20 sheets or 20 packs – 200 sheets total.
Premium Zink Paper vs. Non-Premium
Each brand wants to make money. Since you can use any brand in your device, each brand is going to package their paper to make it look the best. Some brands may list it as "premium"; this is just advertising. All Zink paper is the same, so there is no difference if you buy the "premium" labeled box or not.
Printable Photo Sizes Available
With only one manufacturer of Zink photo paper, there are not a lot of options for printable picture size. The most common size is 2 inches by 3 inches. If you print with a border, the image is squeezed down to 2 inches by 2 inches. The Polaroid Pop gives you pictures that are 3.5 inches by 4.25 inches, but that is still quite small. Regardless, these cute sized photos are perfect to trade with friends or to decorate a locker or desk with, but not ideal for hanging above your mantle.
Most, but not all, of the cameras come with an SD card that saves your photos. If you capture an inspiring image, you can always take the SD card to a local drugstore or go online to have it printed on traditional photo paper if sizing is an issue.
Best Zink Paper Options
The following are various top-rated Zink paper options from different brands to match your accompanying printer or instant camera. The prices might change over time but here is a general idea of the cost for each size and amount:
Polaroid Zink Paper
2 x 3" Premium Zink Paper
2 x 3" Zink Paper 10 Sheets with Colored Borders and 10 Sheets without Borders
2 x 3" Premium Zink Paper with Rainbow Border
3.5 x 4.25" Premium Zink Paper
Canon Zink Paper
2 x 3" Zink Paper with Frames and Stickers
HP Zink Paper
HP Zink paper is known to be the most affordable out of all the options, so if you're on a strict budget, this is the way to go. 
Kodak Zink Paper
Premium 2 x 3" Zink Paper
Lifeprint Zink Paper
Prynt Zink Paper
Prynt offers a monthly subscription for their Zink paper, or you can purchase it one box at a time:
Final Tips for Using Zink Paper
Each brand is going to recommend using the Zink paper with their brand name or logo on it. This is just to boost their sales. As long as you load the correct size of Zink paper into your device, you can use any brand.
Each camera or printer is constructed differently. Looking at the instructions or user manual will help you know how to load paper into your device. Since there are no cartridges or other items needed to print, loading paper is simple, no matter what device it is.
Plain white is the most common color for Zink paper; it is excellent for printing a borderless image, a classic white image, or to show off your creative stylings. However, there are some Zink papers available with colored borders; this lets you add some pizzazz even if you do not want to spend the time editing a photo in the app.
Each brand of Zink paper will come with a blue card: this is a color calibration sheet. Each time you purchase a new pack of Zink paper, you must also load the blue card that comes with it. If you do not load it or use one from a different pack, the color and quality of your photos will be off. Do not throw away the color calibration sheet, because you'll need it for future load-ins.
When the package of Zinc paper is open, use it up within a week or so. If left in the camera or printer for any longer, it can cause the printed photos to come out dark.
Final Thoughts: Are Zinc Paper, Printers, and Cameras Worth Getting?
Zink paper is an amazing technology that is still being perfected. If you are a professional photographer or skilled hobbyist, the quality of Zink cameras and printers is not worth it. The cameras range in quality, but even the best cannot compete with a high-end digital camera. For printers, the technology is not quite there; hopefully, this will change in the future.
If you are a person that loves capturing every moment and sharing them with friends, then a Zink camera or printer is worth it. The apps for each camera let you get creative with:
Editing
Text
Borders
Stickers
Once you design it, your photo is ready in less than a minute. The printers are compact enough you can bring them with you anywhere. If you are less into photography and more into capturing the fun, then definitely consider purchasing a Zink camera or printer.