When buying a new lens for your camera, it is important to know if the lens matches the sensor in your camera body. Nikon and other camera manufacturers have a distinct marker to know if the lens you are buying is meant for an APS-C body.
The easiest way to tell if a lens FX or DX is to look for the letters on the lens near the camera mount or the front of the lens. If you see DX, it means the lens fits on a camera with a smaller DX-format sensor. If the lens doesn't have the letters DX, it is an FX lens and compatible with both FX and DX bodies. However, if it has a Z, the lens won't fit on either camera without an adapter.
Similarly, other manufacturers have adopted a similar way of indicating whether their lenses are made for APS-C or full frame. Here is a short list of third-party manufacturer lens names indicating compatibility with DX-format camera bodies:
Let us discuss a little more about the Nikon lenses and compatibility with the FX and DX sensor formats.
Can you use FX lenses on a DX body?
Nikon DSLRs cameras have two distinct sensor sizes: APS-C (DX) and full-frame (FX). A full frame Nikon FX digital sensor is the same size a traditional 35mm negative at 24mm x 36mm and the smaller, cropped Nikon DX sensor is smaller than a 35mm film negative at 24 x 16mm (with around 1.5x smaller than the full frame sensor).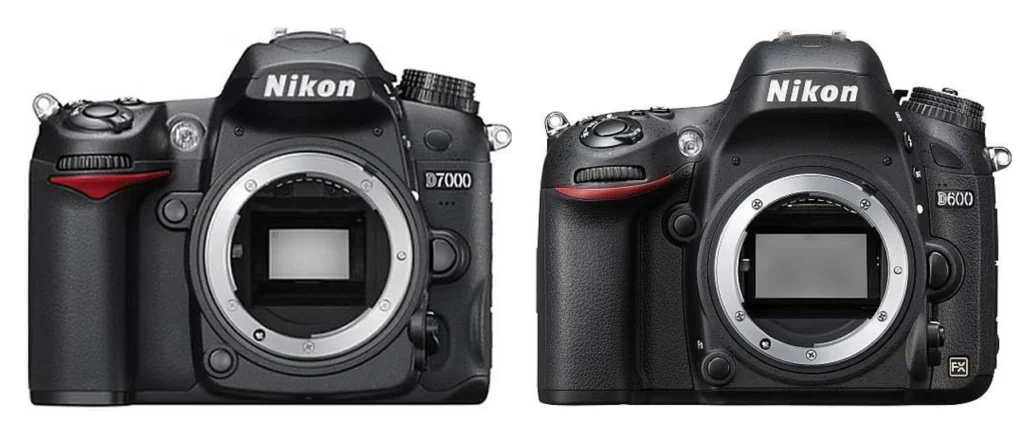 Nikon FX lenses (or f-mount) are compatible with smaller sensor DX bodies but produce a crop factor of 1.5 as the lens produces a wider image circle than the sensor of the camera. This would make a FX 50mm lens the same focal length as a 75mm lens on a DX body. However, you will get the full resolution out of your Nikon FX (or third-party) lenses when used in DX camera bodies like the D7000, D5000, and D3000 series camera bodies.
Something to note is the AF designation of your full-frame F-mount lenses. If you are using an older AF or AF-D lens the D5000 series or D3000 series camera body, you will not have autofocus. The older AF and AF-D lenses use the screw drive focusing motor which is not present in the entry-level D5000 and D3000 series cameras.
Also, Nikon marks their mirrorless cameras and lenses with a Z in the name. Lenses with a Z in the name are only compatible with cameras that have a Z on them unless you use the Nikon FTZ adapter

, which allows for F mount lenses (FX and DX lenses) to be used on Z cameras.

What happens when you put an FX lens on a DX camera?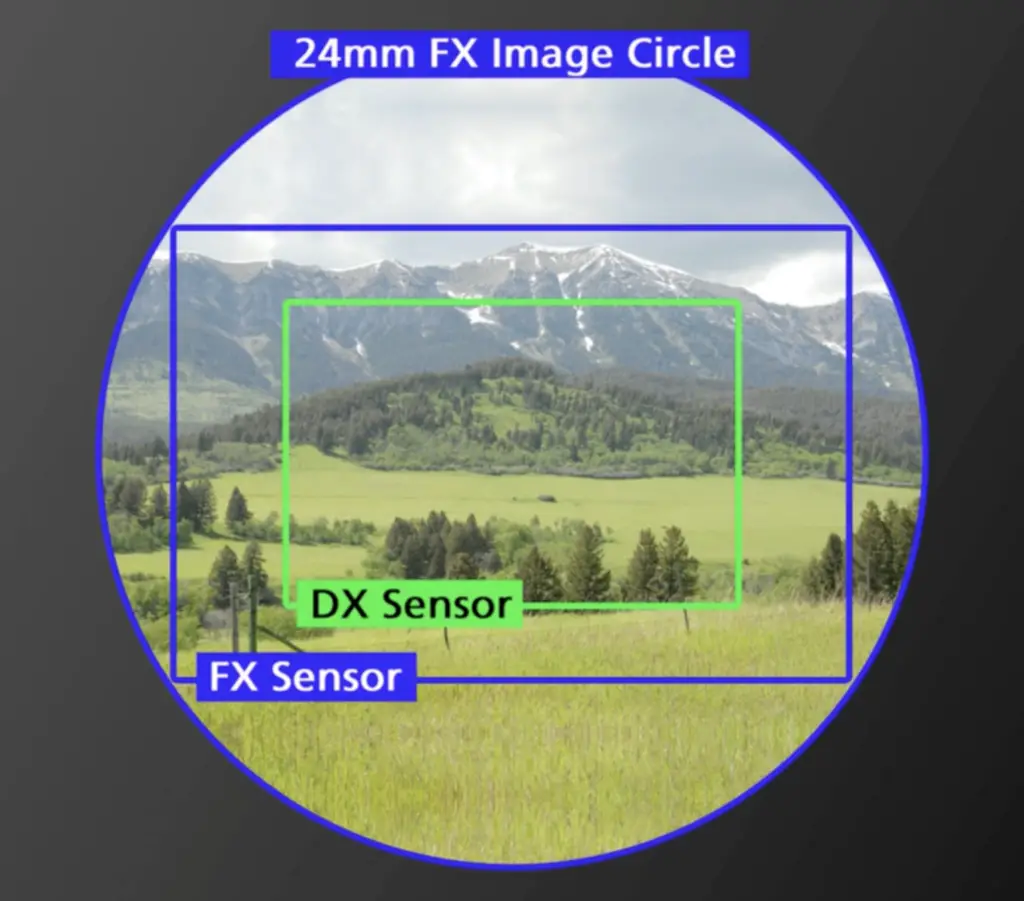 When you use an FX (full frame) lens on a DX body (cropped sensor), you increase the focal length

by 1.5x (the crop factor of the APS-C sensor compared to the full frame). For example, a 50mm lens would now have an effective focal length of 75mm. This is because the DX-format camera sensor uses a smaller portion of the image circle that is produced by an FX lens.
This can be a great thing if you want to get a longer focal length from a smaller lens for extra reach when used for photography that needs a long focal length like landscape, sports, or wildlife photography However, this also applies to wide angle lenses and sort of defeats the purpose of them if used on a cropped-sensor body.
See this article for more about why focal length is important

in photography.

Is a 35mm DX lens actually 35mm?
A 35mm DX lens is actually 35mm on a DX sensor camera. However, the field of view, or focal length

, will be equivalent to 52.5mm on a full-frame camera due to the lens that is built for a full frame sensor that is mounted onto a camera with the smaller DX-format sensor. Since the smaller sensor is only seeing the middle of what the lens sees there is a crop factor of 1.5x involved (35 x 1.5= 52.5).

Can I use a DX lens on a mirrorless camera?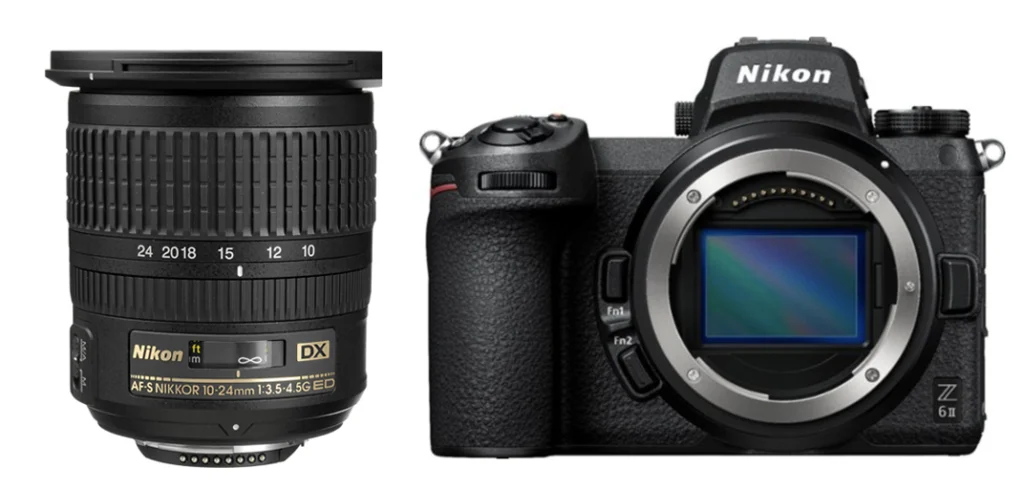 Nikon DX lenses cannot be directly mounted to a Nikon mirrorless camera since there is a difference in the lens mount. However, the F-mount DX lenses of Nikon DSLRs

can be mounted onto the Nikon Z mirrorless cameras using the Nikon FTZ adapter

(F-mount To Z-mount). Using the adapter you will also get full autofocus support using the Nikon DX lenses (AF-S and AF-P) from your DSLR on the Nikon Z cameras.
For DX lenses made by third-party companies such as Sigma

, Tokina

, and Tamron

, please check the specific manufacturer's guide on lens compatibility with the FTZ adapter

since some of these lenses will not have autofocus using the FTZ adapter.

Will DX lenses work on Z6?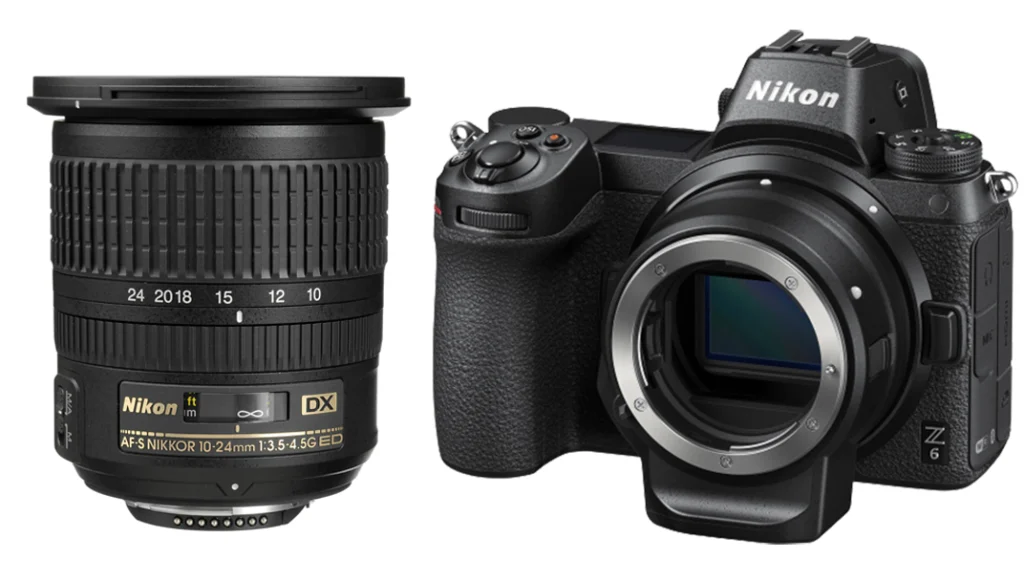 Nikon DX lenses will work on the mirrorless camera when mounted using the FTZ adapter

. While the Z6 is a full-frame camera, it does have the DX-mode option which uses only part of the sensor that is the same size as an APS-C sensor. This effectively crops the image and removes the vignetting caused by the smaller image circle of the DX lens. The DX mode is automatically chosen by the camera when it detects that a DX lens is mounted.
All Nikon full-frame DSLRs and Mirrorless cameras will have the DX-mode option available and can be found in the camera menu options.

Is my Nikon D3300 FX or DX?
The Nikon D3300 is a DX-format camera. Nikon makes it easy to distinguish between its DX and FX format cameras. A camera with four digits after the D is an entry-level or enthusiast DX camera just like the D3000, D5000, and D7000 series. The except to this are the Nikon D500

and Nikon D300

are DX cameras are cropped sensors as well but are more of the professional line of DX cameras. 
Nikon D600

, D700

, and D800

series of cameras (including the Nikon D610

, D780

, and D850

) cameras are full-frame cameras. The flagship DSLRs from Nikon have a single digit after the D like the D4

, D5

, and D6

.
For the Z system mirrorless cameras it is much easier to remember. Any camera with two digits after the D is an APS-C or DX camera while single digits are full-frame mirrorless cameras (for example, the Z6

, Z7

, or Z9

cameras).
Conclusion
Knowing the compatibility of lenses with your camera body is important as it may affect the performance of your cameras. While it is generally better to purchase FX lenses as they work with all current generation cameras from Nikon, it can be a lot more expensive especially if you intend to stick to the DX format cameras. The best advice is to always check out the lens compatibility before purchasing your next lens. Nikon, like all third-party manufacturers, provides a list of lenses that are compatible

with Nikon DSLRs and Mirrorless cameras.